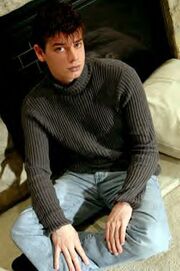 Boioflie, founder and admin of "Darkside Tales."
Personal Info
Edit
Name: Jacob Fox
Age: Wouldn't You Like to Know?
Sex: No thanks
Residence: Chicago, Illinois
Occupation: Writer, student, Japanese-English translator.
Interests
Edit
Tales from the Darkside
Bleach manga and anime
Naruto manga and anime
Horror Movies
Professional wrestling
Tales from the Darkside
Edit
I have been a fan of "Tales from the Darkside" since I was 12 years old.  It was a big thrill to watch because everyone always went to be before me.  At 12:30 AM, Saturday night, this show was the last one to air on the channel I watched it on.  It felt so wonderful and creepy to be watching it alone and it was something I loved.  I started this wiki because there is no in depth reference to "Tales from the Darkside" on the internet.  It is way past due to honor one of my favorites TV shows ever.
Community content is available under
CC-BY-SA
unless otherwise noted.